Reflections on ZERO by 40
18th April 2019
READ TIME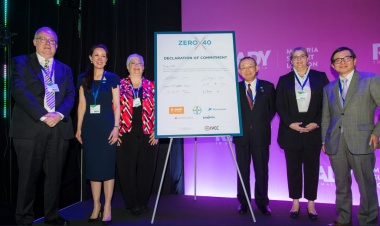 Let's start at the end. If we could just keep mosquitoes from transmitting the parasites, we could stop the scourge of malaria. Mathematical modeling by Imperial College indicates that by the year 2040 we could save over 27 million lives in Africa, reduce malaria in children by 93%, prevent the loss of 3.8 billion farmer work days, and increase agricultural productivity by $295 billion. We should all be asking how we could possibly achieve this monumental improvement on the continent that most needs it. The answer could lie in the development and distribution of just three items: a sugar bait that kills mosquitoes, bed nets with combinations of insecticides that overcome resistance, and indoor wall sprays that only need to be applied once per year.
ZERO by 40 is an agreement among leading agricultural chemical companies currently involved in vector control in Africa to apply their skills and resources to the development of those three tools. None of them are pie-in-the-sky wish fulfillment – they can be ready in the next five years:
The sugar bait, called an Attractive Targeted Sugar Bait (ATSB), met and exceeded its expectations in African trials after nearly ten years of patient work by Westham Company. This tool kills mosquitoes in a completely new way, complementing traditional methods to achieve a very high level of control. The work ahead is detailed and sometimes frustrating, but at the end of the day, it is a matter of dotting I's and crossing T's.
The first combination nets (long-lasting insecticide-treated bed nets, or LLINs) are being distributed this year. Though these nets use the insecticide for which many mosquitoes have resistance, they overcome the resistance by adding one of several additional chemicals. Patient effort during 11 years by the Innovative Vector Control Consortium (IVCC) and its industrial partners is also producing completely new candidate insecticides that will only be used in Africa for public health, keeping those new compounds from suffering the fate of insecticide resistance.
Indoor wall sprays (indoor residual spray or IRS and an extra-long-lasting spray or XLLIRS) will also use some of the new chemicals. Through a combination of formulation and chemistry, production of products that last at least 12 months will revolutionize IRS. Smaller, professional spray crews will be able to work their way through a community on a continuous basis, escaping the inefficiency of seasonal programs timed to treat homes before the transmission season.
During the last year, the Gates Foundation, IVCC, Mitsui Chemical Company, Sumitomo Chemical Company, ChemChina/Syngenta, BASF, and Bayer Corporation have worked together from the very top of their organizations to the technical people who make things happen. This collaboration is based on commitment to public-health mosquito control and a willingness to cooperate with each other.  Supported by two meetings with Bill Gates, this community is developing a feasible plan to reach an audacious goal – elimination of malaria from Africa by 2040.