ZERO by 40 A Year On
19th April 2019
READ TIME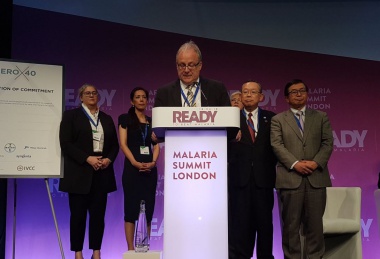 A year ago, the CEO's of five major R&D crop protection companies flew to the World Economic Forum in Davos for a short but very significant meeting with Bill Gates and IVCC.  Why? Malaria deaths had declined globally from 839,000 in 2000 to an estimated 446,000 in 2016, with much of this decline attributed to long lasting insecticide treated bed nets and indoor residual spraying. However, in 2017, the 10 highest burden African countries saw an estimated 3.5 million more malaria cases in 2017 compared with the previous year.  The annual decline in the malaria burden had stalled. Much of this plateauing was attributed to insufficient levels of access to, and uptake of, lifesaving malaria tools and interventions.
What really could a handful of agrochemical companies do to slow the decline that they were not already doing?
Innovation, product development and market access in vector control has historically come from the agrochemical industry, using repurposed insecticides from agriculture.  Today, there are few R&D-based companies who have the expertise to develop new public health insecticides to manage the resistance to current chemistries commonly used in vector control. So, what are the options? We can regress: rely only on existing but gradually failing vector control tools, we can continue to maintain the gains with novel active ingredients and repurposed chemistry, or we can push for elimination of malaria with disruptive novel tools with proven public health value.
The challenge is significant. There are a limited number of insecticide classes (modes of action) in agriculture and the physical and chemical properties of insecticides needed in agriculture are often different to those needed in vector control.  To make the challenge even harder, vector control product development is not an attractive investment option. Vector control is a small business compared to agriculture, driven by a small number of passionate people who care about their impact.
Recognizing that a transformational approach was needed, the few agrochemical companies with R&D capabilities to develop novel insecticide-based tools were asked to 'Stay the course' on new product development in vector control and to share know-how if it could be demonstrated doing so would help save additional lives. This unusual partnership of competitors, called 'ZERO by 40', will work together to a select number of potentially game-changing interventions.
The mission is aspirational but technically achievable.
So, what might be achieved in this type of collaboration? Mathematical modelling demonstrates that if successful, 17 million lives could be saved between now and 2040 and 840 million malaria cases averted in smallholder farming communities. This could accelerate agricultural productivity and at the same time free up an additional 3.2 billion work days and 1.5 billion school days and reduce the number of care-giving days provided mostly by women by 1.1 billion. Ultimately, eradicating malaria by 2040 will save lives and reduce poverty across malaria endemic sub-Saharan Africa.  Through ZERO by 40, major agrochemical companies have the opportunity to demonstrate that they can be 'best in the world' and 'best for the world' at the same time.