Accelerating Development of New Insecticides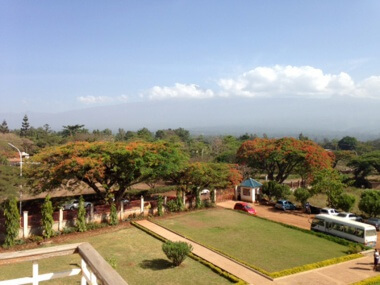 Sitting snugly in the shadow of Mount Kilimanjaro in Tanzania sits the Kilimanjaro Christian Medical University College. Based at the college is PAMVERC, where a team of scientists works collaboratively across a number of organisations, such as London School of Hygiene and Tropical Medicine and IVCC, to test new innovations in vector control, mostly malaria-focussed.
Even though we know how to prevent malaria, it still kills over 600,000 people each year. The vast majority of these are children under the age of five, and pregnant women.  Insecticide treated bed nets and indoor residual spraying of insecticides have and will continue to save thousands of lives every year; however, as with any monotherapy (only one class of chemistry is available for use in bed nets), resistance is starting to seriously take its toll.  We are seeing resistance to pyrethroid insecticides and other classes of chemistry almost everywhere we look for it, and in some locations in Africa complete failure has been observed. This is not a new story but it is an increasingly frightening one. Insecticide resistance is now reaching the tipping point. (Watch the IVCC video here for more information)
The good news, however, is that even when insecticides fail, the physical barrier of a net continues to provide some level of protection from malaria transmission, so continued net use is important.  IVCC's mission and focus since its inception in 2005 has been to work across multiple stakeholders, especially industry, to catalyse innovation in vector control and bring new classes of insecticides to market.  New products are starting to become available or are in the product development pipeline at a well-advanced stage. Watch this space!
However, our focus is beginning to shift from managing innovation to managing time from discovery to impact.  I recently asked two different highly respected scientists in the field of malaria and neglected tropical disease research what a complete failure of pyrethroids in bed nets would represent in terms of lives lost and the estimates were staggering—somewhere between 70,000 and 150,000 per year.  Any number of preventable deaths is completely unacceptable, but these types of numbers defy belief and really raise the level of urgency and responsibility.  Today, from discovery to impact for a new insecticide takes about 12 years.  We have a number of new chemistries just entering the development phase, which means that, if we take a normal course to market we will not see an impact until 2024/2025.
What if all the different players in the value chain agreed to do something creative and disruptive so that we can make new life-saving public health insecticides available by 2020—just five years?  This is feasible, and could save many thousands of lives.
We know how to accelerate the development of experimental products when lives are at stake—the Ebola crisis has demonstrated this.  So, we in the malaria community need to take full responsibility and apply the same principles and urgency to solving the malaria problem.
Novel drugs and vaccines are in the research pipeline, but vector control is and will continue to be the foundation of malaria management for the foreseeable future. Can we rise to the challenge of maintaining or improving on the performance of long-lasting insecticide treated nets and indoor residual sprays and getting them into the hands of those that desperately need them in five years or less?