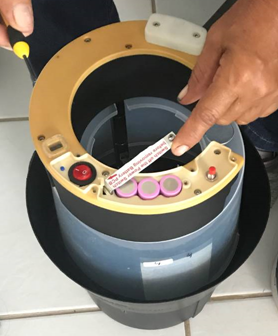 Breakthroughs in disease control have arisen through leaps in understanding and completely new methods of control. For example, the discovery by Sir Ronald Ross in 1897 that malaria is transmitted by mosquitoes and the subsequent use of insecticides to control them. Incremental improvements in tackling mosquitoes have involved many smaller innovations, for example the introduction of control flow valves for compression sprayers which enable walls to be sprayed more accurately and consistently with insecticide to maximise the impact on mosquitoes that transmit malaria.
IVCC keeps watch for new ideas in vector control and receives many innovative proposals for development and testing of new products. There is a need to choose those most likely to have a strong impact on disease transmission, short time to deployment, low cost of development, high probability of success and good fit with IVCC's priorities for vector control. Once these innovations have been selected, IVCC's role is to test, guide and accelerate them towards adoption and to help maximise the benefits from their use.
An example of this is IVCC's contribution to the U.S. Agency for International Development (USAID) 'Grand Challenge for Zika and Future Threats', which ran from 2017 – 2019. In this case, USAID issued a call for proposals and selected 26 innovations from over 900 submissions. IVCC helped manage 9 of these projects relating to vector control, vector surveillance and Zika virus transmission prevention. IVCC's role was to support the projects to develop and test their technologies to tackle the principal vector of Zika virus, the mosquito Aedes aegypti. An IVCC Programme Manager, who worked closely with the projects and with USAID's 'Center for Accelerating Innovation and Impact', set up a Zika External Scientific Advisory Committee (ESAC) with experts drawn from existing IVCC ESACs and supplemented by experts on Aedes aegypti. Meetings of the Zika ESAC were held at approximately 6 monthly intervals, for project updates and ESAC guidance. In addition to this, specialists were appointed to help the projects understand, evaluate and resolve their specific technical, regulatory, production and commercialisation challenges.
The diagram below shows the 12 areas in which IVCC added value to the Zika Grand Challenge projects.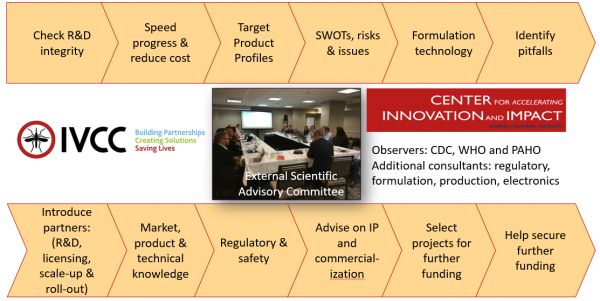 IVCC's work on Target Product Profiles (TPPs) formed the core of the guidance to the projects to help them to develop products that would combat Zika virus and future threats most effectively and to demonstrate that their innovations would be successful. These profiles define the performance criteria that eventually need to be met and hence gave the research teams a clear vision of what to aim towards.
IVCC also monitored the progress and prospects of each of the projects, regularly evaluating their Strengths, Weaknesses, Opportunities, Threats (SWOT), risks and issues. This helped with determining needs for further funding to address additional aspects of the TPPs and opportunities for development and cross-over of relevant technologies into malaria vector control.
Several projects were successful in achieving their milestones including a spatial repellent product from Sumitomo and a novel automated mosquito trap.
The spatial repellent is impregnated in a small device which can be hung from the ceiling to protect people inside the room from being bitten by mosquitoes. In a project led by QIMR Berghofer Medical Research Institute and involving Emory University and the Autonomous University of Yucatan, two seasons of trials on the mosquito Aedes aegypti in Mexico's Yucatan peninsula demonstrated very good results, suggesting that the product could protect the population from viruses transmitted by this vector (dengue, Zika virus, yellow fever etc.). A significant and important results was that the spatial repellent was effective even in the presence of insecticide resistant mosquitoes. Further work is now funded to investigate cost effectiveness and optimum deployment.
Johns Hopkins University developed a mosquito monitoring trap that incorporates a novel system for recognition, identification and counting of the mosquitoes it catches, as well as automatic transmission of this information via a wireless network. Tests demonstrated a very high level of accuracy in identification, enabling more rapid and accurate monitoring and reduction in labour costs associated with visiting conventional traps and manually identifying their catches.
Innovation is vital to succeeding in the fight against vector-borne diseases and in collaboration with its funders and partners, IVCC is accelerating vector control innovations to save lives.