African Scientists are the Key to African Challenges
8th September 2015
READ TIME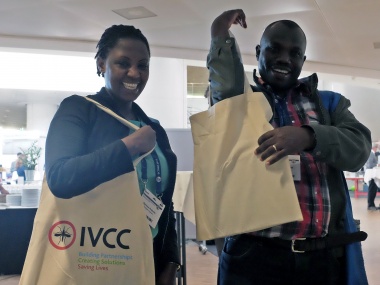 Is it time to recognise that African scientists are the key to African challenges? Listening to some of the excellent speakers at the European Congress on Ttropical medicine and Health has reminded me of just how much talent there is in Africa, and who is best situated to understand the urgency in the work we are engaged in and the very real local problems that are faced in making good ideas work in the field.
The latest member of the IVCC team, Dr Silas Majambere, our Senior Scientist, was speaking this morning about the progress that has been made in vector control. It was a clear and inspiring presentation that left me encouraged about how far we have come in driving back malaria and made me even more determined to see us finish the task and herald the end of this scourge of the African nations.
One of the questions he was asked related to the need for capacity building in Africa. His response was insightful and true. There is a new generation of African scientists, keen and talented, who are increasingly talking together about what they can do to make a difference in the countries where they grew up.
I remember when I visited Burkina Faso last year being impressed with the energy and knowledge of the local scientists we work with there. Some of the ideas we are currently exploring have come from their first-hand knowledge of the problems of malaria, and the life of the mosquitoes that transmit the disease. Visiting some of the local villages I was reminded of how little I know about the everyday lives of the people I am working for. Who best to understand the urgency and local realities than local people themselves.
As IVCC moves towards the final phase of developing new anti-malarial insecticides we are rightly proud of this monumental advance in the war against malaria. (Bear in mind these will be the first new public health insecticides in 30 years!) But now it is time to look towards the people who will benefit from these new tools and, not only harness their local understanding of how they should be applied, but also equipping this new generation of African scientists in finding their own solutions.
From what I have seen and heard I am greatly encouraged and hopeful that, given the tools they are more than able to finish the job.