All-Party Parliamentary Group (APPG) visit IVCC – July 2022
22nd July 2022
READ TIME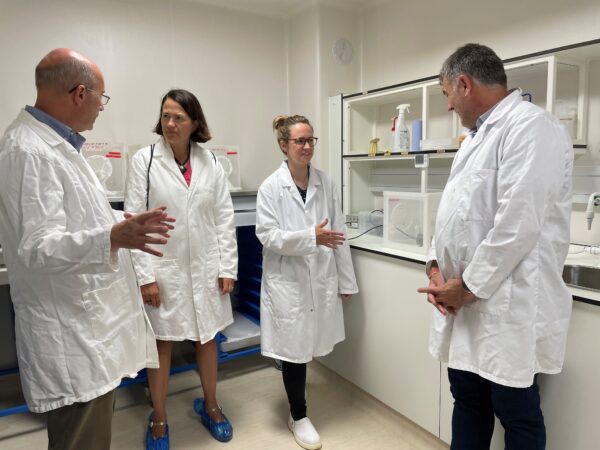 July 2022
Last week, IVCC was delighted to welcome Catherine West MP, Chair of the All-Party Parliamentary Group (APPG) on Malaria and Neglected Tropical Diseases to Liverpool to meet representatives from IVCC and the Liverpool School of Tropical Medicine (LSTM).
Accompanied by Ian Byrne, MP for Liverpool West Derby and Jeremey Lefroy, founding member of the APPG on Malaria and NTDs and Board member of both LSTM and IVCC, Catherine heard about the innovative vector control pipeline that IVCC is developing and delivering including a new outdoor biting intervention called Attractive Targeted Sugar Bait (ATSB) and BASF's Interceptor® G2 bed net, a dual-insecticide bed net with an innovative mode of action currently undergoing trials across sub-Saharan Africa. In a recent study published in the Lancet, Interceptor® G2 was able to demonstrate an overall 44% reduction in malaria incidence in children 6 months to 10 years in a random controlled trial conducted in Tanzania, demonstrating the immediate and significant impact innovative tools can have on malaria in endemic countries, particularly against the most vulnerable groups such as young children.
The group also heard about the Access programmes being led by IVCC, such as the NgenIRS programme and the New Nets Project which are helping bring life saving interventions to market at scale and at pace and which are already saved many thousands of lives.
Catherine and guests also visited the Liverpool Insect Testing Establishment (LITE) which supports the testing of insecticide-based products for commercial partners against insecticide-resistant colonies.  LITE maintains a range of insecticide susceptible and resistant colonies of mosquitoes and provides a range of approaches for insecticide efficacy testing. The guests closed the day with a visit to LSTM's venom unit which houses the largest and most diverse collection of tropical venomous snakes in the UK and leads pioneering research into a universal anti-venom and improvements in the efficacy, affordability and safety of snakebite treatments.
https://www.thelancet.com/journals/lancet/article/PIIS0140-6736(21)02499-5/fulltext
Image: Photo of visit to IVCC by APPG Chair :  Caption of photo;  Catherine West MP (second from left) and Ian Byrne MP (far right) talking to IVCC and LSTM colleagues at the Liverpool Insect Testing Establishment.