IVCC's Annual report 2021 16th December 2021

IVCC's Annual report for 2021 has been published. The report showcases IVCC's work to facilitate innovative approaches to preventing vector-borne diseases and tackle the growing threat of insecticide resistance. With activities across the globe and spanning research and development and market access, we are accelerating the process from innovation to impact. The report is a reminder of the importance of collaborative working and the progress laid out in it is testament, too, to the commitment of our partners from industry, academia, the public sector and advocacy. We are grateful for the support of all of our funders, who make life-saving vector control possible.

Tech Update Autumn 2021 2nd December 2021
Download the Tech Updates highlighting vector biology and control news, publications and resources.
Given the breadth of vector control-related literature, we are unable to include all relevant work. These updates are intended to focus primarily on Anopheles biology and a subset of control topics with global relevance.

Any views expressed in the updates do not necessarily reflect the views or opinions of IVCC. In many cases, we directly quote sections of published work. Mention of trade names or commercial products is solely for the purpose of providing specific information and does not imply recommendation or endorsement by IVCC or its funders.

Indoor Residual Spray (IRS) Community Trial begins in Papua New Guinea 15th November 2021

Last week, indoor residual spraying began in Papua New Guinea (PNG) as part of a 12-month epidemiological field trial under the NATNAT project led by PNG Institute of Medical Research, PNG National Malaria Control Programme, Burnet Institute, James Cook University and Rotarians Against Malaria (RAM).

The trial is running in 4 villages- Wasab, Bulal, Megiar and Mirap- in the north coast province of Madang, and will assess the effectiveness, feasibility, community acceptability and cost-effectiveness of residual spraying of household structures. The study is designed as an interrupted time series with two interventions over the time period and two control villages.

The trial is part of NATNAT's wider programme of activity in PNG which aims to develop an evidence-based framework for the rapid assessment and adoption of novel vector control tools (VCTs) and has 4 main objectives:
Strengthen laboratory, semi-field and field capacity to test new VCTs
Conduct rigorous field evaluations of new VCTs and implementation (IRS, larval source management and spatial emanators)
Investigate the community and health system acceptability and cost-effectiveness of new VCTs
Support a national malaria control programme (NMCP)-led formal network for vector control tools and interventions in PNG
Malaria rates are increasing in PNG and elsewhere in Melanesia.  LLINs are necessary but will not be sufficient on their own to reverse this trend and move towards elimination. Recent studies have also shown a decline in the effectiveness of LLINs in PNG and -in some areas- low net usage two years after mass distribution. Coupled with the challenge of early, outdoor- biting mosquitoes, new tools and improved usage are needed to fill these gaps.
NATNAT is part of IVCC's Indo-Pacific Initiative (IPI) which is building on experience of vector control innovation in sub-Saharan African to identify and scale-up use of new and existing tools to support malaria control and elimination in the Indo-Pacific.   IVCC is facilitating direct dialogue between its Africa-based staff and the NATNAT team to provide lessons learned and best practice with implementation planning and training of spray operators, based on years of field experience.
IPI also complements IVCC's focus on Africa through contributing to evidence on the performance of outdoor tools for use in last-mile elimination scenarios, as well as expanding the markets for other novel products such as 3rd generation IRS.
NATNAT is one of three projects IVCC is leading in the Indo-Pacific region, funded by Australia Aid as part of its Global Health Security Initiative. The other two projects are Project BITE and a mathematical modelling project to predict the impact of new tools in the region.
Considering the significant challenges caused by COVID-19, IVCC commends its NATNAT partners for achieving this milestone on the road towards a possible reintroduction of national IRS spraying in PNG.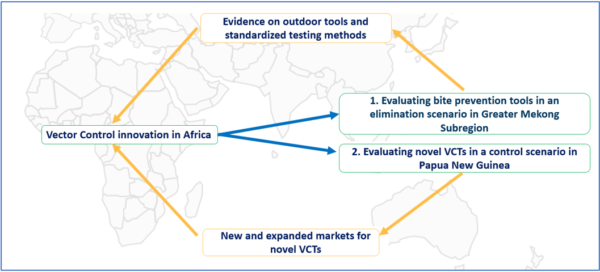 A New Incentive in the Battle Against Mosquito-Borne Diseases: Vector Expedited Review Voucher (VERV) 29th October 2021

The Vector Expedited Review Voucher (VERV), modelled on the already established US Priority Review Voucher (PRV) for drug development, is a proposed no cost new incentive to encourage R&D focussed agriculture companies to innovate in public health where there are significant economic barriers to product innovation. The VERV would encourage companies to invest in novel insecticide development for public health, such as malaria, by rewarding the registrant of a new public health insecticide with a voucher to receive an expedited review of a second, more profitable product outside public health. Getting to market faster is valuable and gives an innovator registrant an opportunity to generate a financial return to mitigate the development cost losses on a public health use insecticide.

IVCC supports Malaria No More UK report: How British-backed science can accelerate the end of malaria 29th October 2021

The report features a Foreword by Sir Stephen O'Brien, Chair of the IVCC Board of Trustees and two cases studies of product innovation in vector control; Westham's Attractive Targeted Sugar bait (ATSB®) and BASF's Interceptor® G2 dual insecticide bed net. IVCC is a Product Development Partnership (PDP) based in Liverpool which works with the private sector, academics and funders to advance the development and deployment of a range of innovative vector control tools to help eradicate malaria. Read the full report here.