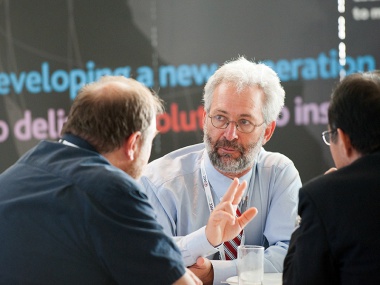 A personal view of the Stakeholder Day 2014, by journalist Stephen Regan
Early in the stakeholder forum Rear Admiral Tim Ziemer set a challenge for all delegates: "What can you do?  What can I do?  What needs to be done to focus on outcomes, to set our identities aside, to embrace the strategic plan for product development."
In an upbeat opening speech, the ex US Navy man, who heads the President's Malaria Initiative said: "We're not going to be able to achieve on malaria control, sustainability and eradication without a mechanism like IVCC to facilitate developments of new tools and products needed to continue the fight, then eventually get us to elimination, so I hope it's clear that we're all in."
His remarks gave resonance to a growing feeling in the malaria community – very evident during the forum – that now is the time for a focusing of efforts and a coming together.
Observing the audience at the Museum of Liverpool, Tim Ziemer said it was clear that a "unique blend of scientists, researchers, investors and programme specialists" had come together to review, renew, affirm how important it was to rethink.
He told delegates: "It's not only about product development but also looking at ways of improving the delivery of mechanisms. It's a difficult task – and you know what's sobering …? Well, it's kind of up to us; it's up to the people in this room to actually deliver on the mission."
Tim also told delegates: "Product development partners like IVCC have resulted in accelerating new technology development. We're seeing more promising products in the pipeline than we ever have before.  For an investor that represents an exciting deliverable. …
"The potential to provide more value for money in a high risk, high gain and highly technical field, by leveraging funding to gain support for continued development of critical commodities to combat a disease of poverty like malaria – that reflects an effective research investment.
"We, the United States Government, look at this IVCC as an investment opportunity to leverage some of our research money for the future and we're very pleased to be a partner."
Tim added: "We stand within the reach of achieving the goals that we once thought were unimaginable; ending deaths from malaria and then eliminating it from the globe. The goal over the next 20 years will be to sustain and build on this effort that we've achieved today – and face challenges such as resistance, mosquito resistant, parasite resistance and the uncertainties around donor and national funding for malaria control.
"We're all in this together, it's really up to us as critical partners in the fight to do something about it."