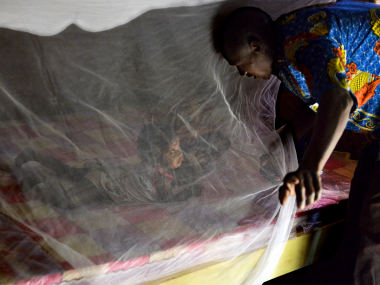 The Innovative Vector Control Consortium (IVCC) is delighted to announce that, resulting from a collaboration with BASF and the London School of Hygiene & Tropical Medicine, a new type of Long Lasting Insecticidal Net (LLIN) has received a recommendation for use by the World Health Organization (WHO).
This new LLIN, Interceptor® G2, combines the current pyrethroid class of public health insecticide used in bednets across malaria endemic countries, with a repurposed insecticide from agriculture called Chlorfenapyr.  The successful mixture of these two active ingredients coated on a LLIN represents a major advance in the mission to overcome insecticide resistance.  Chlorfenapyr has a different mode of action from current WHO recommended public health insecticides.
Liverpool based IVCC played an instrumental part in bringing this product to the recommendation stage, supporting and funding the project during the field trials and, as project partner, leading the technical progress of the project through its External Scientific Advisory Committee (ESAC).
Nick Hamon, CEO of IVCC said: "Interceptor® G2 is a major step forward in the battle against mosquito insecticide resistance.  We hope and expect this to be the first of several novel vector control products IVCC will support bringing to market in the coming years to help eradicate malaria".
"Developing new vector control tools would not be possible without the dedication of our industry partners and the visionary support of our funders.  Without the financial backing of organisations such as the Bill & Melinda Gates Foundation and UKaid, the complex development, testing and evidence gathering exercises needed to support novel vector control products would simply not be possible.  They, along with BASF, deserve immense credit."
Dave Malone, Technical Manager at IVCC added; "The growing intensity and distribution of resistance to pyrethroids threatens to undermine the great progress that has been made against malaria by the use of LLINs, particularly in sub-Saharan African where 90 per cent of malaria deaths occur.  By combining pyrethroids with a new class of chemistry, these new LLINs have the potential to protect and save many more lives."