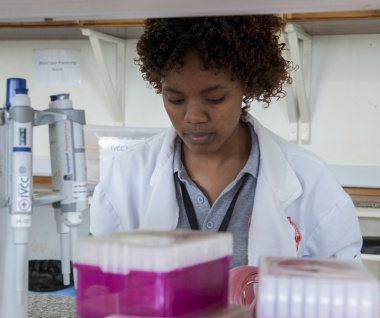 Nick Hamon, CEO of IVCC said: "Field trial partners in Africa play an essential role in the testing of novel vector control products being developed and one of the most important elements of the field trial is the quality of the data generated, as this is the key to establishing the true nature of the products being tested."
Since 2000, IVCC, in partnership with the London School of Hygiene & Tropical Medicine, has been working to strengthen the quality and reliability of data generated by African vector control field trial sites.  This work has included the development of Standard Operating Procedures (SOPs), the auditing of facilities, and follow-up Good Laboratory Practice (GLP) training workshops.
An important element of IVCC's GLP rollout programme has also been its funding of infrastructure improvements including buildings and equipment at its collaborating trial sites.  This capacity building is establishing a network of facilities in Africa that can generate testing data on vector control products of the highest standard.
Professor Franklin Mosha, Test Facility Manager for the KCMUCo facility said: "Reaching this important milestone is a major achievement for IVCC and KCMUCo, and credit is due to all of the staff in Moshi who have implemented enormous changes in relation to their facilities, working practices and culture over a relatively short but intense period of time."
Nick Hamon, CEO of IVCC added: "A future network of GLP certified trials sites across Africa will allow manufacturers of vector control products to generate their own efficacy data for inclusion in their product dossiers submitted to the WHO product evaluation process. This represents a major step forward for vector control product testing, which will be of major importance in delivering the IVCC mission and malaria elimination in the future."
Six further IVCC collaborating trials sites are now planning their GLP studies and will be submitting their applications for OECD GLP certification through SANAS.
Notes to journalist
IVCC
IVCC is a non-profit public-private partnership, which aims to save lives, protect health, and increase prosperity in areas where disease transmitted by insects is endemic. It brings together the best minds to develop new solutions to prevent disease transmission. By focusing resources and targeting practical scientific solutions, it accelerates the process from innovation to impact.  IVCC has several novel public health insecticide active ingredients at the point of final development, for delivery in about 2022.  Although primarily targeted at malaria vectors, these insecticides will have application to other NTDs.  IVCC is also currently exploring control of mosquitoes that transmit outdoors and during the day.