IVCC hosts 2023 Stakeholder Forum
20th October 2023
READ TIME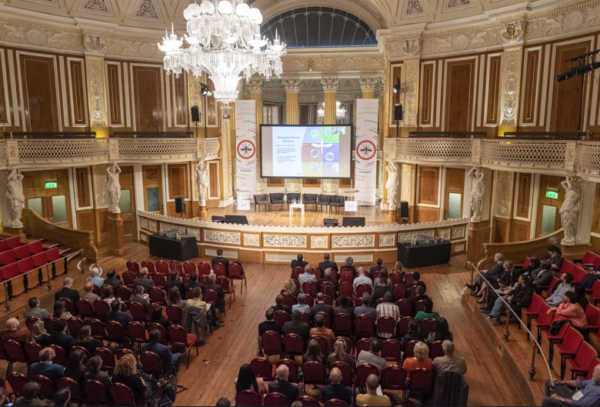 Under the conference theme, 'Working in Partnership to Deliver Vector Control Solutions', IVCC hosted its first stakeholder conference in four years. It took place in IVCC's hometown of Liverpool on 3rd and 4th October.  IVCC welcomed 130 guests from across our stakeholders and partners to the day and a half long conference at Liverpool's St George's Hall.
IVCC was delighted to host Damaris Matoke-Muhia, Principal Research Scientist at the Kenya Medical Research Institute (KEMRI) and Chair of the PAMCA Women in Vector Control Programme, as the keynote speaker. During her presentation Damaris outlined some of the key challenges facing malaria elimination and eradication as we approach 2030: insecticide resistance, climate change, increased outdoor biting and the rise of invasive species. Damaris called for continued innovation of vector control tools, as current interventions alone won't deliver on the WHO's target for reducing global malaria incidence and mortality rates by at least 90%. At the same time, Damaris highlighted the importance of developing tools with endemic communities in mind. Too often, the usability of interventions isn't sufficiently considered, meaning communities find the tools too hard to use, take care of and not fit for their living conditions. In her closing remarks, Damaris emphasised that malaria elimination targets will not be met unless there is leadership that represents pluralism within society. In addition, she encouraged the malaria community to consider an approach of multidisciplinary and capacity sharing – which more overtly recognizes the contribution of all collaborators learning from one another – when tackling the challenges that lie ahead. (A recording of Damaris' presentation can be found here).
IVCC's programme for the day was filled with a series of panel discussions and presentations from a range of distinguished guests drawn from all corners of the malaria community, including funders, industry, academia and regulators.  As well as valuable networking time, attendees were also able to view an extensive scientific poster programme.
On day one of the conference, attendees were also invited to a very special conference dinner at St George's iconic Great Hall. The Hall provided a stunning, historic backdrop to an evening of networking over dinner whilst guests were treated to an organ performance by City and Cathedral Organist, Ian Tracey.
The second day of the event also included a panel discussion and two session, one focused on equity, diversity and inclusion in vector control product development.  A series of inspiring and thought-provoking sessions ensured that key challenges were discussed and debated, while key achievements were also appropriately recognised.  IVCC would like to thank all participants for making our Stakeholder conference a highly engaging and successful event.