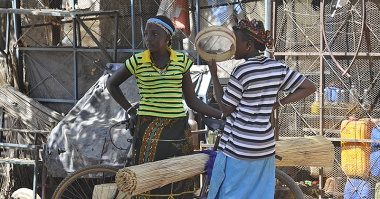 As I discovered recently, while visiting Forde Abbey, a 12th century monastery in Dorset, the word about malaria seems to be getting out.
When asked about what I do for a living, I used to expect to start every response with a short explanation of malaria, mosquitoes, insecticides, bed nets and vector control. But this is happening less frequently these days. The general public often knows the basics about malaria and there is an expectation that the challenge of malaria is being managed and a solution is just around the corner.
Just around the corner may be a little optimistic but it certainly it is in sight.  In 2000, <3% of the population at risk from malaria had access to an insecticide treated net; today that number is about 50%.  In the last fourteen years, there has been an estimated 50% global decline of mortality rates. This is something to celebrate, of course, but a staggering 580,000 people still died of malaria in 2013.
The World Health Organization's new malaria targets are ambitious—to reduce malaria mortality rates and case incidence by ≥90% by 2030, to eliminate malaria from ≥ 35 countries by 2030, and to bring us 'as close as possible to global eradication.
To achieve this, novel insecticides, drugs and vaccines are essential. IVCC's mission is to build a toolbox of vector control solutions that can combat insecticide resistance. When IVCC was formed ten years ago, our biggest hurdle was to build partnerships with the major agrochemical industry companies and work with them to identify novel chemistry for public heath use.
Four and a half million compounds and 27 chemical classes later, that challenge has now been replaced with the need to find significant funding to take three new interventions 'across the finish line'.
In 2013, $2.7 billion was spent on malaria through international and domestic funds. But an estimated $5.1 billion will be needed annually if we are to ensure that malaria ceases to have a devastating impact on people's health and livelihoods around the world.
So what funding does IVCC need over the next ten years to complete its mission?
It takes much the same process to get a novel insecticide registered and into the right hands as a new drug; chemistry, efficacy, formulations, toxicology, environmental impact and chemistry, registration fees etc. are all needed to provide safe and effective products.
I am very optimistic about the life-saving potential of the IVCC product pipeline, thanks to the incredible support of funders such as the Bill and Melinda Gates Foundation, UKAID, USAID, Swiss Agency for Development and Cooperation, as well as our industry partners such as Syngenta, Bayer, Sumitomo and BASF.
If our current funders 'stay the course' until 2025, we need to find an additional $100m, 70% of this in the next four years. I think we can do this, but it will not be easy.
Today we work closely with committed and motivated funders, but there are other sources of funding that could play a part in eradicating malaria.  What about the private sector?   Companies with long-term growth strategies for sub-Saharan Africa, could make a contribution to saving lives and growing the African economy, and at the same time building their brands and repetitional capital.
Are there any senior industry executives out there with the vision to see the value of being a partner in this incredible and winnable fight to eradicate malaria?