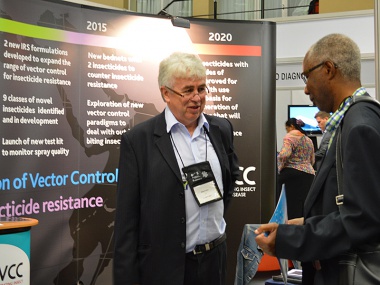 IVCC's stakeholder event in 2013 took place at MIM in Durban, when key individuals and organisations from all over the world gathered to share information and strategies for fighting malaria.
One of IVCC's key objectives for stakeholder events is to engage with people working in country control programmes. The MIM Pan-African Malaria Conference 2013 in Durban provided a perfect opportunity to make contact and learn from people in the front line of malaria vector control.
The IVCC stand provided a visual summary of key achievements since the launch of IVCC in 2005 and a time frame for delivery of new vector control tools.
There were many visitors to the stand. Most were seeking  information about the progress of IVCC's collaboration with industry partners to develop the three new active ingredients that will form the basis of a new generation of public health insecticides. A frequent question was, 'how long before you can deliver?', indicative of growing concerns about insecticide resistance.
Information about IVCC's portfolio and details about insecticide resistance were presented to delegates in an IVCC symposium on new tools for the management of insecticide resistance.
Professor Hilary Ranson from LSTM started the IVCC symposium with an overview of insecticide resistance in vector control. Dr Charles Wondji looked at the mechanisms of insecticide resistance and Professor Diabate Abdoulaye considered current strategies and future challenges for malaria vector control in Africa. An industry perspective was provided by Frederic Baur, who outlined the development of new products for insecticide resistance management.
During an evening reception later in the week, the new IVCC CEO, Dr Nick Hamon, outlined the IVCC mission and objectives for the next few years. Tribute was paid to the founders of IVCC and thanks recorded to the committed industry partners and funders who make the work of IVCC possible.
IVCC also took part in a demonstration of the new  Insecticide Quantification Kits (IQKs), which are designed to help spray programmes monitor the effectiveness of indoor residual spraying.