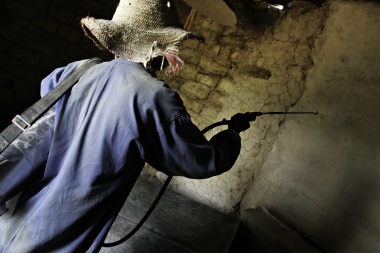 Mosquito resistance to insecticides remains a growing concern, according to WHO estimates revealed at the American Society of Tropical Medicine and Hygiene meeting in Atlanta recently.
WHO reports 60 countries have recorded mosquito resistance to at least one of the four insecticides used in long-lasting insecticide treated nets (LLINS) and indoor residual spraying (IRS) since 2010. Of these, 49 countries have reported resistance to two or more insecticide classes. WHO says that if resistance continues to intensify, the mosquito-killing capacity of LLINs and indoor residual spraying may steadily weaken.
This would be a tragedy for sub-Saharan Africa where acclaimed research last year demonstrated that LLINs accounted for about 78% of the substantial malaria gains over the past 15 years or so. (Read more about this here.)
If the battle against malaria is to continue to drive back this scourge from sub-Saharan Africa, the need to continue to develop new public health insecticides is paramount. Fortunately, due to the foresight of leading vector science academics who saw the potential threat over 15 years ago, the Bill & Melinda Gates Foundation and other forward thinking funders have invested appropriately in the search for new public health insecticides. IVCC was established in 2005 as the only vector control focused Product Development Partnership (PDP) and has worked closely with world-leading vector scientists and agro-chemical companies to design and develop novel public health insecticides targetted precisely at killing the mosquitoes that transmit malaria.
Professor Hilary Ranson, one of the world's leading authorities on insecticide resistance, warned earlier this year that pyrethroid resistance is the biggest biological threat to malaria control in Africa. (Read about this here.) Together with other leading specialists in this area she says that the urgent need for new vector control products is apparent,  and the new vector control products that are in the pipeline must be rationally deployed in order to slow down future resistance developing.
IVCC has a healthy pipeline of novel vector control tools, itself a product of consistent commitment by public health funders and industrial partners to finding a solution to the global threat of insect-transmitted diseases.
*The effect of malaria control on Plasmodium falciparum in Africa between 2000 and 2015. S Bhatt, et al.