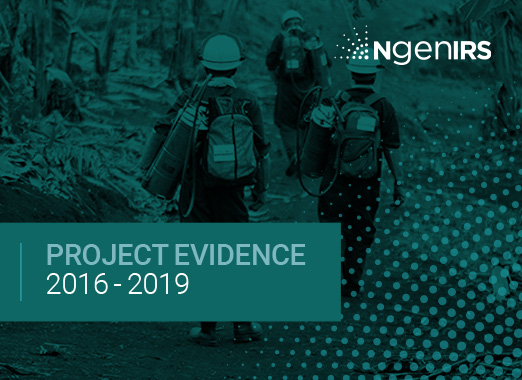 "I am very pleased that together we achieved our goal of establishing a sustainable, growing and competitive market for third generation, longer lasting and resistance-breaking insecticides for Indoor Residual Spraying (IRS)."
On December 31st, 2019, the Unitaid funded NgenIRS project came to an end. The NgenIRS team, led by IVCC and made up of colleagues from PATH and Abt Associates, worked in partnership with 16 malaria control and elimination programmes across Africa, the US President's Malaria Initiative (PMI), the Global Fund and three insecticide manufacturers.
The downward trend in IRS use was reversed and the resulting expansion of use has resulted in significant public health impact, savings in commodity costs and new evidence showing the cost-effectiveness of third generation IRS (3GIRS). What's more, the foundation has been laid to sustain and expand on these successes, providing malaria programmes with more options for rotation and ultimately more lives saved on the path towards malaria elimination.
Today we launch a collection of evidence materials, consisting of a video, a project overview and evidence slides (available in both English and French). These materials are available for free download on the NgenIRS web page and IVCC resource library. These materials have been prepared to show the impact of the NgenIRS project and are intended for use by partners and stakeholders who need to communicate the contribution of 3GIRS products to the reduction of malaria. We hope that these are useful to you and advice on use can be found within the materials.
I would like to extend my heartfelt thanks to the NgenIRS team and our many other partners who worked tirelessly and selflessly to make this project such a huge success. Although we have achieved great things together, we must maintain this commitment to enhancing and smartly deploying the vector control toolbox if we are to reach our shared goal of malaria eradication.