Secretary of State Announces £25M Fund for IVCC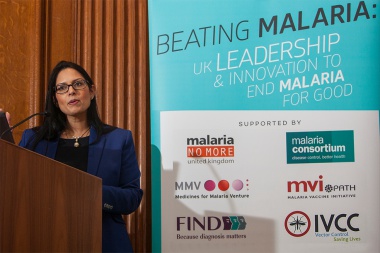 IVCC is to receive new funding of £25million from UKAID for its work developing new anti-malarial insecticides. The announcement was made by the Secretary of State for International Development, The Rt Hon Priti Patel MP, at the launch of the WHO World Malaria Report 2016 in London.
'We are here to celebrate the continuing progress in the battle against malaria, and the leadership role the UK is playing as part of the global effort,' she said. 'But progress is now overshadowed by the big issue of drug resistance and insecticide resistance. So it is imperative that the world continues to affirm its commitment to tackling malaria today, and to meeting that critical target agreed last year, of reducing the malaria burden by a further 90% by 2030.'
'The UK has been at the forefront of the fight against malaria for many years, but we must keep up the momentum. Long lasting insecticide treated nets and indoor residual spraying of homes have had a major impact in the fight against malaria. With our support, IVCC are on track to deliver three new active ingredients to the market by 2022.'
Thanking UKAID, IVCC CEO, Dr Nick Hamon said, 'This is absolutely wonderful news. This grant will result in significant impact through the creation of a toolbox of novel vector solutions. We thank the staff at UKAID for their outstanding support over the past three years and look forward to working with them over the next four years and beyond. IVCC has a very strong pipeline of potential products, with one new product in particular (Actellic CS), co-developed with Syngenta, saving lives and having a significant impact in Africa'.