IVCC Ambassador Pack (full) 5th November 2020 Entomological Society of America – Annual Meeting 11th September 2019 American Society of Tropical Medicine & Hygiene (ASTMH) 10th September 2019
NgenIRS shared evidence on cost, cost effectiveness and contribution of 3GIRS to reduce malaria cases in the era of pyrethroid resistance.
In November 2019, members of the NgenIRS project and their colleagues convened in National Harbor, Maryland for the annual meeting of the American Society of Tropical Medicine and Hygiene to learn about and share results from recent research in global health and tropical medicine.
The NgenIRS project shared results from the recently concluded cluster randomized trial in Mopeia District, Mozambique and the cost and cost-effectiveness of 3GIRS in.
Molly Robertson, NgenIRS Senior Evidence Lead from PATH, presented on the analytical and cost implications of five methodologies used during the cluster randomized trial in Mozambique to evaluate the public health impact of IRS with 3GIRS products.
A presentation on the cost and cost-effectiveness of 3GIRS, which included results from Ghana, Mali, Mozambique, Uganda, and Zambia, showed that 3GIRS products are expected to be cost-effective or highly cost-effective according to WHO standards in many contexts across sub-Saharan Africa.
Other presentations covered diverse topics related to the cluster randomized trial including: the challenges of using mobile-phone based data collection, entomological surveillance results, the incremental impact of indoor residual spraying in addition to LLINs, and the cost and cost-effectiveness of IRS in an area with access to pyrethroid LLINs.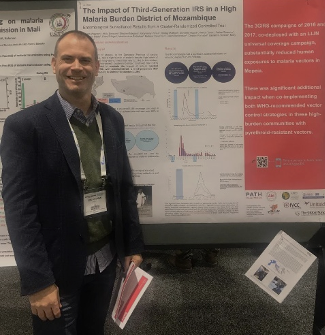 Photo credit: Kenzie Tynuv, PATH

Learn more about these presentations and the evidence fact sheets by visiting our resources section.

Joe Wagman presents a poster on entomological results from the cluster randomized trial in Mopeia district, Mozambique conducted as part of the NgenIRS Project.

The Role of Product Development (PDP) Partnerships 11th August 2020 Vector Control 11th August 2020