Bite prevention tools significantly protect against landing in Cambodia field trial 17th May 2022

Recent entomological field results from Project BITE under IVCC's Indo-Pacific Initiative (IPI) have shown that forest packs containing bite prevention tools offer significant protection from landing mosquitoes. The results come from trials that UCSF-MEI, IVCC's lead partner on BITE, conducted in Mondulkiri province, Cambodia, with the local non-profit Health Forefront Organization.

The entomological trials were conducted in an area directly adjacent to forest and was comprised of 7 temporary shelters designed to mimic short-term dwellings used by people when working or travelling in the forest. Inside each shelter, one of the bite prevention tools, or a combination of all tools, or a control, were used while volunteers collected mosquitoes via Human Landing Catches (HLC) over a 12-hour period.

Over 49 nights of collections, the entomological field study demonstrated that all products – both on their own and in combination – are highly efficacious at preventing mosquitoes from landing. In fact, all products and combinations reduced mosquito landings by at least 60% compared to the control, while the spatial repellent alone and the combination of all products reduced landings by approximately 95%.

Project BITE aims to evaluate the effectiveness of forest packs containing a spatial emanator, topical repellent, and insecticide-treated clothing when deployed to forest dwellers, goers, and rangers in the Greater Mekong Subregion (GMS). Semi-field trials completed in Thailand in 2021 demonstrated that bite prevention tools not only prevent mosquitoes from landing but can also kill and delay host-seeking.

Following the entomological field studies, Project BITE is currently planning on how best to scale-up use of these tools and further evaluate their epidemiological impact, acceptability, use and cost-effectiveness among high-risk forest-exposed populations.

IVCC and its partners are hopeful that the evidence generated by BITE will help make the case to national programmes and donors on the effectiveness of bite prevention tools delivered in forest packs in the fight against outdoor malaria transmission.

Promising new tools against malaria 6th January 2022

Led by IVCC, the New Nets Project is piloting new tools to strengthen the insecticide-treated net (ITN) market. Project partner Molly Robertson of PATH has written a blog following the publication of interim analyses that illustrates the potential effectiveness of new ITN types. Read more here.

Indoor Residual Spray (IRS) Community Trial begins in Papua New Guinea 15th November 2021

Last week, indoor residual spraying began in Papua New Guinea (PNG) as part of a 12-month epidemiological field trial under the NATNAT project led by PNG Institute of Medical Research, PNG National Malaria Control Programme, Burnet Institute, James Cook University and Rotarians Against Malaria (RAM).

The trial is running in 4 villages- Wasab, Bulal, Megiar and Mirap- in the north coast province of Madang, and will assess the effectiveness, feasibility, community acceptability and cost-effectiveness of residual spraying of household structures. The study is designed as an interrupted time series with two interventions over the time period and two control villages.

The trial is part of NATNAT's wider programme of activity in PNG which aims to develop an evidence-based framework for the rapid assessment and adoption of novel vector control tools (VCTs) and has 4 main objectives:
Strengthen laboratory, semi-field and field capacity to test new VCTs
Conduct rigorous field evaluations of new VCTs and implementation (IRS, larval source management and spatial emanators)
Investigate the community and health system acceptability and cost-effectiveness of new VCTs
Support a national malaria control programme (NMCP)-led formal network for vector control tools and interventions in PNG
Malaria rates are increasing in PNG and elsewhere in Melanesia.  LLINs are necessary but will not be sufficient on their own to reverse this trend and move towards elimination. Recent studies have also shown a decline in the effectiveness of LLINs in PNG and -in some areas- low net usage two years after mass distribution. Coupled with the challenge of early, outdoor- biting mosquitoes, new tools and improved usage are needed to fill these gaps.
NATNAT is part of IVCC's Indo-Pacific Initiative (IPI) which is building on experience of vector control innovation in sub-Saharan African to identify and scale-up use of new and existing tools to support malaria control and elimination in the Indo-Pacific.   IVCC is facilitating direct dialogue between its Africa-based staff and the NATNAT team to provide lessons learned and best practice with implementation planning and training of spray operators, based on years of field experience.
IPI also complements IVCC's focus on Africa through contributing to evidence on the performance of outdoor tools for use in last-mile elimination scenarios, as well as expanding the markets for other novel products such as 3rd generation IRS.
NATNAT is one of three projects IVCC is leading in the Indo-Pacific region, funded by Australia Aid as part of its Global Health Security Initiative. The other two projects are Project BITE and a mathematical modelling project to predict the impact of new tools in the region.
Considering the significant challenges caused by COVID-19, IVCC commends its NATNAT partners for achieving this milestone on the road towards a possible reintroduction of national IRS spraying in PNG.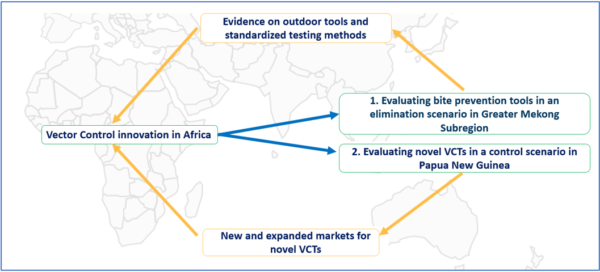 A New Incentive in the Battle Against Mosquito-Borne Diseases: Vector Expedited Review Voucher (VERV) 29th October 2021

The Vector Expedited Review Voucher (VERV), modelled on the already established US Priority Review Voucher (PRV) for drug development, is a proposed no cost new incentive to encourage R&D focussed agriculture companies to innovate in public health where there are significant economic barriers to product innovation. The VERV would encourage companies to invest in novel insecticide development for public health, such as malaria, by rewarding the registrant of a new public health insecticide with a voucher to receive an expedited review of a second, more profitable product outside public health. Getting to market faster is valuable and gives an innovator registrant an opportunity to generate a financial return to mitigate the development cost losses on a public health use insecticide.

Personal Experiences with Malaria 23rd April 2021
A Little About Me
I was born and raised in Cameroon, which is a malaria endemic country. My experiences growing up led me to want to work in the malaria field, I studied biochemistry planning to build a career in malaria research. However, after studies I instead joined the pharmaceutical industry working on accelerating access to malaria medicines. Today, I am very privileged to be working in vector control, which gives me a holistic understanding of the challenges to malaria eradication and a chance to impact the fight against the disease from a different angle.
My Experiences with Malaria
I grew up in a Sahelian area in the north of Cameroon close to Chad in the 1980's. The climate there is typically hot, sunny, dry and somewhat windy all year long. Malaria was seasonal and I remember taking chloroquine tablets on a weekly basis as prophylaxis during the high transmission season, typically the raining season. At that time rapid diagnostic tests were not common and every fever would have been treated first as malaria.
After my studies, I moved in the south of the country closer to the equator. Here the climate was completely different, it is an equatorial climate hot and wet all year round. The annual rainfall is high as it rains almost every day and this creates a humid climate, which is an ideal set up for mosquitoes. Indeed, in the south of Cameroon malaria is endemic and the probability of being infected is very high throughout the year. . It was a typical high burden area. Following this move, my relationship with malaria definitely changed after getting malaria for the first time in more than a decade almost immediately.
To make things worse, I neglected the symptoms as they showed up during a business trip in Morocco far from home. Fortunately, I was able to access to a treatment quickly and recovered without any complication. Having a malaria episode out of an endemic country has sometimes been a real challenge for people, many people died because of misdiagnosis and delayed care. Indeed, treating malaria early is the best way to handle the disease when the care is delayed it can lead to serious complications.
After that first malaria experience as an adult, I started being more conscious of vector control. I didn't want to get sick again and prevention is key to this. I started using insecticide sprayers and I would spray my bedroom everyday before going to sleep. Despite these precautions I experienced in general one malaria episode per year. I started using bed nets routinely when my daughter was born. I was able to buy one in a shop, on the private market. She slept under a bed net every night. Throughout the years, my experience of malaria has evolved, based on where I where I lived (Sahel or equatorial climate), my age and status (mother).  Having more information about the options available to me to prevent malaria and protect my family was so important.
What Next in Eradication?
There is a real opportunity to eradicate malaria in maximizing efforts in high burden set ups, communities are fighting the disease on daily basis and just need the appropriate tools and empowerment to defeat it. A lot still needs to be done to teach the about the disease at a very early age, to ensure better awareness of symptoms and good practices to prevent and treat the disease early. Engaging the youth and supporting alternative route to market could be very robust initiatives in tackling the disease. Finally, I definitely became more alert on the disease and proactive when I became a mother. To defeat malaria, we should find a way to partner more with women in communities, they often face the largest burdens of malaria (during their pregnancy and as caregivers) and hold a lot of decision making power. Raising their awareness and collaborating with them in the design and implementation of the new tools in the IVCC pipeline will allow for equitable and quicker adoption of life saving interventions.