New members join IVCC's External Scientific Advisory Committee (ESAC)
17th May 2023
READ TIME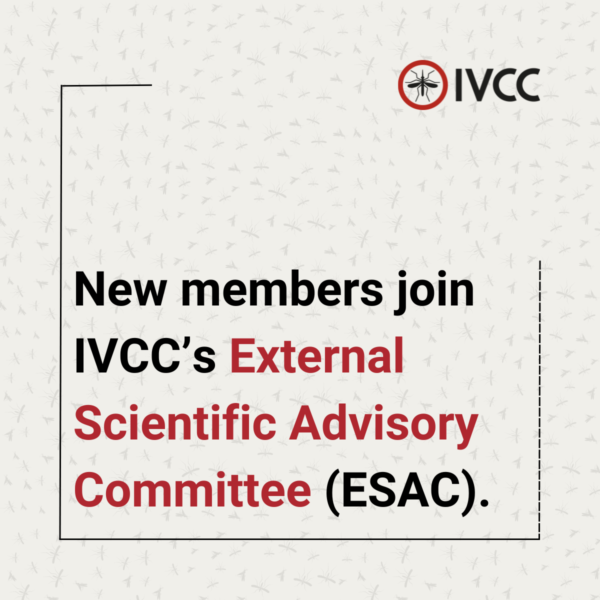 IVCC's External Scientific Advisory Committee (ESAC) welcomes two new experts, Dr Egon Weinmueller and Dr Samwel Okello. They join following a 'call for experts' in the development and manufacturing of insecticide-treated nets (ITNs).
The ESAC provides expert specialist technical assessments of IVCC's portfolio of products, including project selection, transition, and termination. They provide advice to the IVCC management team during periodic reviews of the projects. Membership of the ESAC is through nomination of candidates with the required expertise.
Dr Egon Weinmueller has a PhD in Agriculture, International Trade and Policy. He is member of RBM VCWG. Egon retired from BASF after a career including Regional Management responsibilities for BASF Agricultural Products Division in various parts of the world and as head of the BASF Global Public Health unit in developing and bringing new products to market for indoor residual spraying (IRS) and ITNs.
Dr Samwel Okello brings 10 years of research experience in vector-borne diseases. He is currently involved in developing and improving technologies that save lives, including Long-Lasting Insecticidal Nets, Indoor Residual Sprays, Larvicides and Spatial Repellents. Samwel brings a wealth of experienced in evaluation of vector control products in laboratory and semi-field studies using standard WHO protocols. He formerly worked for International Center of Insect Physiology and Ecology as a research fellow in arbovirus research.
More details on the role and responsibilities of ESAC members, visit ivcc.com/research-development/esacs/
Dr Egon Weinmueller
Dr Samwel Okello