IVCC supports Good Laboratory Practice certification for field trial sites in Africa 27th September 2023

IVCC is excited to share the news that two more of our collaborating trials facilities in Africa have been granted Good Laboratory Practice (GLP) certification by the South African National Accreditation System (SANAS): the Institut Pierre Richet Vector Control Product Evaluation Centre (IPR VCPEC) in Bouaké, Côte d'Ivoire; and the National Institute for Medical Research (NIMR) Amani Research Centre in Muheza, Tanzania.

IVCC has supported both facilities towards GLP certification with funding from the Bill & Melinda Gates Foundation, including support for infrastructure improvements required for GLP compliance.

The NIMR Amani Test Facility is now the first Public Test Facility in the East African region to achieve GLP certification for vector control product evaluations.

Dr William Kisinza, Director & Chief Research Scientist at the NIMR Amani Research Centre, also said: "The work required for GLP certification wasn't an easy process.  As a team, we have worked hard over the past seven years and are very proud of this achievement.  We are also grateful for the support and guidance provided by IVCC through this process. Our team at NIMR is very proud of being part of a larger network of collaborating trial facilities in Africa that can generate testing data on vector control products of the highest standard

NIMR Amani Research Centre has state-of-the-art laboratories and other research facilities for laboratory and semi-field trials on various vector control tools, including insecticides and insecticide-treated fabrics, used in the control of disease vectors.  The Centre currently operates 13 suites of experimental huts and 2 platforms for semi-field trials. Other experimental facilities include a set of three large semi-field structures (Mosquito Spheres), animal houses, a set of insectaries, an Insecticides Testing Facility (ITF), Molecular biology Laboratory, General/Parasitology Laboratories and Data Management and information and communications technology (ICT) Units. The Centre has conducted several community-based randomized controlled trials (RCTs) on major health interventions including long-lasting insecticidal nets (LLIN) and indoor residual spraying (IRS) trials.

Dr Raphael N'Guessan, Head of the IPR VCPEC facility, said: "We are very happy, after so much work, to have achieved our GLP certification. We are very grateful to IVCC for its support, and especially to Alex Wright who pushed and assisted us in every way".

IPR's research focuses on vector-borne diseases and neglected tropical diseases. VCPEC was established as a unit within IPR to evaluate the efficacy of insecticide-treated nets (ITNs) and other vector control tools. VCPEC has been involved in a project to evaluate a novel house-based malaria vector control intervention called the 'eave tube', which combines modifications to make a house more 'mosquito-proof' with an innovative way of delivering insecticidal active ingredients. Eave tubes, in combination with screening of windows and doors, were found to reduce malaria transmission in a community-based randomized controlled trial (RCT) conducted in central Côte d'Ivoire between 2016 and 2019. We look forward to working with the companies to deliver high quality data on the efficacy of novel vector control products in line with the WHO pre-qualification requirements".

Pictured are the main IPR VCPEC building, which houses insecticide spraying, insecticide testing rooms and molecular biology rooms, and the molecular biology and insecticide testing buildings at NIMR Amani Research Centre.

IVCC contributes to strengthen the capacity for malaria vector control research at CSRS 22nd June 2023

IVCC has great pleasure in announcing that the Centre Suisse de Recherches Scientifiques (CSRS) trials facility has been granted Good Laboratory Practice (GLP) certification by the South African National Accreditation System (SANAS) in June 2023.

Based in the economic capital of Côte d'Ivoire, Abidjan, the CSRS facility is a longstanding collaborating partner of IVCC. CSRS help IVCC and our industry partners to evaluate new malaria vector control products by conducting studies against local resistant mosquito populations in the environments where they will actually be used. They have also generated product efficacy data for manufacturers for regulatory submissions, including WHO Prequalification Unit Vector Control Product Assessment Team (PQT/VCP) dossier submissions.

IVCC has supported the CSRS trials facility towards GLP certification with funding from the Bill & Melinda Gates Foundation. This included support for the essential infrastructure improvements and equipment purchases necessary for full GLP compliance. Pictured is CSRS's new field trials facility, built at their experimental hut site in Tiassalé. In addition to this, training was provided to key facility staff through participation in GLP workshops and specialist courses. IVCC's support has also helped further strengthen the capacity for malaria vector control research at CSRS.

Professor Benjamin Koudou, CSRS Director of Research and Development, said: "This tremendous achievement by the team will be key for CSRS visibility within Côte d'Ivoire and abroad. The GLP certification of our facility will help further build the trust that companies, malaria control implementation programmes and other organisations have in our research. We anticipate that this will increase the demand at CSRS for conducting laboratory and field trials in conjunction with the control of malaria and neglected tropical diseases. We are planning now to implement the same quality management facility in our molecular biology laboratory."

IVCC congratulates Professor Inza Koné (test facility manager), Professor Koudou, Dr Edi Constant (Coordinator of GLP facility), Lisro Emmanuelle (CSRS quality manager), Laurence Yao (GLP Project manager), and all the facility staff on this significant achievement.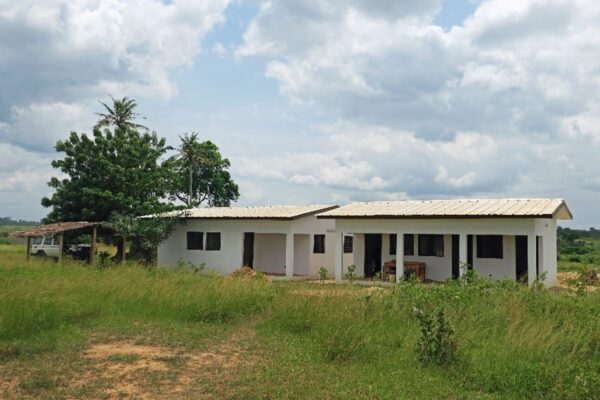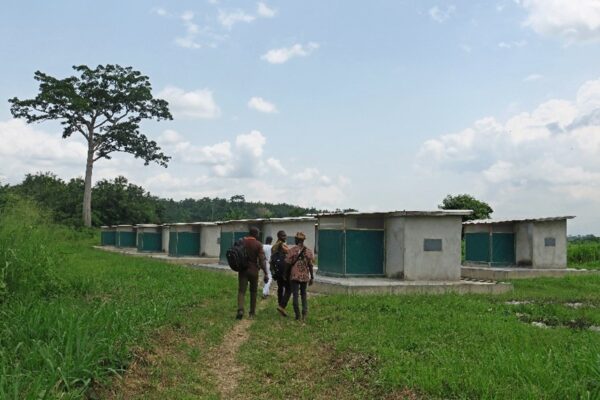 Bite prevention tools significantly protect against landing in Cambodia field trial 17th May 2022

Recent entomological field results from Project BITE under IVCC's Indo-Pacific Initiative (IPI) have shown that forest packs containing bite prevention tools offer significant protection from landing mosquitoes. The results come from trials that UCSF-MEI, IVCC's lead partner on BITE, conducted in Mondulkiri province, Cambodia, with the local non-profit Health Forefront Organization.

The entomological trials were conducted in an area directly adjacent to forest and was comprised of 7 temporary shelters designed to mimic short-term dwellings used by people when working or travelling in the forest. Inside each shelter, one of the bite prevention tools, or a combination of all tools, or a control, were used while volunteers collected mosquitoes via Human Landing Catches (HLC) over a 12-hour period.

Over 49 nights of collections, the entomological field study demonstrated that all products – both on their own and in combination – are highly efficacious at preventing mosquitoes from landing. In fact, all products and combinations reduced mosquito landings by at least 60% compared to the control, while the spatial repellent alone and the combination of all products reduced landings by approximately 95%.

Project BITE aims to evaluate the effectiveness of forest packs containing a spatial emanator, topical repellent, and insecticide-treated clothing when deployed to forest dwellers, goers, and rangers in the Greater Mekong Subregion (GMS). Semi-field trials completed in Thailand in 2021 demonstrated that bite prevention tools not only prevent mosquitoes from landing but can also kill and delay host-seeking.

Following the entomological field studies, Project BITE is currently planning on how best to scale-up use of these tools and further evaluate their epidemiological impact, acceptability, use and cost-effectiveness among high-risk forest-exposed populations.

IVCC and its partners are hopeful that the evidence generated by BITE will help make the case to national programmes and donors on the effectiveness of bite prevention tools delivered in forest packs in the fight against outdoor malaria transmission.

Indoor Residual Spray (IRS) Community Trial begins in Papua New Guinea 15th November 2021

Last week, indoor residual spraying began in Papua New Guinea (PNG) as part of a 12-month epidemiological field trial under the NATNAT project led by PNG Institute of Medical Research, PNG National Malaria Control Programme, Burnet Institute, James Cook University and Rotarians Against Malaria (RAM).

The trial is running in 4 villages- Wasab, Bulal, Megiar and Mirap- in the north coast province of Madang, and will assess the effectiveness, feasibility, community acceptability and cost-effectiveness of residual spraying of household structures. The study is designed as an interrupted time series with two interventions over the time period and two control villages.

The trial is part of NATNAT's wider programme of activity in PNG which aims to develop an evidence-based framework for the rapid assessment and adoption of novel vector control tools (VCTs) and has 4 main objectives:
Strengthen laboratory, semi-field and field capacity to test new VCTs
Conduct rigorous field evaluations of new VCTs and implementation (IRS, larval source management and spatial emanators)
Investigate the community and health system acceptability and cost-effectiveness of new VCTs
Support a national malaria control programme (NMCP)-led formal network for vector control tools and interventions in PNG
Malaria rates are increasing in PNG and elsewhere in Melanesia.  LLINs are necessary but will not be sufficient on their own to reverse this trend and move towards elimination. Recent studies have also shown a decline in the effectiveness of LLINs in PNG and -in some areas- low net usage two years after mass distribution. Coupled with the challenge of early, outdoor- biting mosquitoes, new tools and improved usage are needed to fill these gaps.
NATNAT is part of IVCC's Indo-Pacific Initiative (IPI) which is building on experience of vector control innovation in sub-Saharan African to identify and scale-up use of new and existing tools to support malaria control and elimination in the Indo-Pacific.   IVCC is facilitating direct dialogue between its Africa-based staff and the NATNAT team to provide lessons learned and best practice with implementation planning and training of spray operators, based on years of field experience.
IPI also complements IVCC's focus on Africa through contributing to evidence on the performance of outdoor tools for use in last-mile elimination scenarios, as well as expanding the markets for other novel products such as 3rd generation IRS.
NATNAT is one of three projects IVCC is leading in the Indo-Pacific region, funded by Australia Aid as part of its Global Health Security Initiative. The other two projects are Project BITE and a mathematical modelling project to predict the impact of new tools in the region.
Considering the significant challenges caused by COVID-19, IVCC commends its NATNAT partners for achieving this milestone on the road towards a possible reintroduction of national IRS spraying in PNG.